Bonjour à tous !
De retour de vacances, il est temps de rattraper le retard, non ? (et ça va aller vite... attention montagne d'article en vue !)
Bref voici les deux derniers rapport de la Blender Fondation. Je me permettrai un résumé global pour alléger le tout, et le rendre plus clair et lisible.
Bonne lecture ! ;-)
Hi all,

Here are the notes for today's meeting in irc.freenode.net #blendercoders:

1) Projects for upcoming 2.72 release

- Reminder of the planning:
http://wiki.blender.org/index.php/Dev:Doc/Projects

- FBX: most of this is in master now, only animation import will be added still.

- Cycles render for freestyle - some discussion happened on what the use case or priority was. Ton Roosendaal asked Tamito Kajiyama to make sure on the NPR list that the targets he works on are sufficiently supported.

2) Google Summer of Code

- It's now the last weeks of GSoC, students should be able to present working code by now or very soon (as in, usable for artists). Consider to make videos!

- Fluid project still has link issues. No actual development results can be shown yet.

- NURBS project works on the tesselator still, with support for trim curves being worked on.

- GE bug fixing goes quite well (130 reports closed since beginning of GSoC). Ines Almeida wanted to know if the fixes could go from her branch to master. Meeting thinks so, provided the GE team agrees.

3) Other projects

- Bastien Montagne: making progress with custom split normals, now have working import + preview + render + store in .blend + editing with modifier code.

http://wiki.blender.org/index.php/User:Mont29/Foundation/Split_Vertex_Normals#Loop_normal_edition

- OpenSubdiv: work on textures and normal mapping progressing well.

Thanks,

-Ton-
Hi all,

Here are the notes from today's meeting in irc.freenode.net #blendercoders.

1) Upcoming 2.72 release projects

- Bastien Montagne: the FBX todos for release are in master now\
http://wiki.blender.org/index.php/User:Mont29/Foundation/FBX_TODO_2014_07#Import:_Add_custom_properties\

- Check the extensive doc on FBX here, including Hamster samples (more examples coming).
http://wiki.blender.org/index.php/Extensions:2.6/Py/Scripts/Import-Export/Autodesk_FBX

- Tamito Kajiyama: Freestyle for Cycles is under review, Thomas Dinges accepted it from a UI perspective https://developer.blender.org/D632

- Antony Ryakiotakis: Pie menus still have a few minor additions and then we can do final review. Could get in git master this week.

- Aside of pies and freestyle, "BCon3" is active for all other projects per now.

2) Google Summer of Code

- Roman Pogribnyi solved the fluid linking issues. Work on getting Mantaflow to work now can finally proceed.

- Jason Wilkins has a patch that will go to 2.72 already:
https://developer.blender.org/D643

3) Other projects

- OpenSubdiv proceeds, texture support:
http://www.pasteall.org/pic/show.php?id=74525
Tangent space normal mappimg and generated texture coordinates still have to be done

- Dalai Felinto has a fullscreen patch
https://developer.blender.org/D678
Organize Maximize/Fullscreen mess and add a new fullscreen mode with no UI. Review is positive, will make it for 2.72.

Thanks,

-Ton-
En résumé
2.72
Le planning n'a pas bougé: une RC est prévue pour début septembre.
Tamito Kajiyama en a fini avec l'intégration de Freestyle dans Cycles. Thomas Dinges valide l'interface. La relecture du reste du code est en court.
Bastien Montagne a rempli les objectifs de développement fixés pour la 2.72 au niveau du FBX. Le tout est dans la master, téléchargeable ici: Blender buildbot
La liste de ce qui est supporté est disponible ici.
Antony Ryakiotakis à presque fini avec les pie menus (menu radiaux) - qui avait dit qu'il les sentait bien pour la 2.72 ? :-D
Ils devraient être dans la master cette semaine.
Les dév's passent en BCon3 (tests et corrections de bugs), excepté pour les projets pour Freestyle et les pie menus.
Dalai Felinto a proposé un patch qui sera intégré dans la 2.72, qui permet de passer une vue en plein écran et en masquant les menus. Raccourci [Alt]+[F10] (et non F11, qui ne cache pas les menus)
GSoC
Roman Pogribnyi a réglé ses problèmes d'import de librairies, Mataflow va maintenant pourvoir être utilisé dans Blender. On ne devrait pas tarder à voir des builds (version compilées) sortir.
C'est la dernière semaine des GSoC. Les étudiants doivent livrer des version utilisables de leur code. Il leur est conseillé de faire des vidéos de présentation: je vous préviens dès que j'en vois passer ;-)
Le GSoC sur les courbes et surfaces NURBS avance bien. L'étudiant travaille sur la subdivision des courbes.

Le projet de correction de bug du Game Engine (moteur de jeu) a bien avancé. Sur 130 bugs listés, 50 ont été corrigé depuis le début du GSoC (et non pas les 130 !). Ines Almeida (auteure de ce GSoC) a proposé d'intégrer le tout dans la master pour la 2.72. Les membres de la réunion ont approuvés, l'équipe en change du GE aussi.
Autres projets
Bastien montagne avance avec le projet custom split normals (permettant une édition des normales de l'objet plus fine): l'import, le rendu, l'enregistrement et les modificateurs marchent.
OpenSubdiv avance: il supporte maintenant les textures, comme sur l'image ci-dessous.
Il manque encore le support des normal map. et de la méthode de placage de la texture dite generated ("automatique").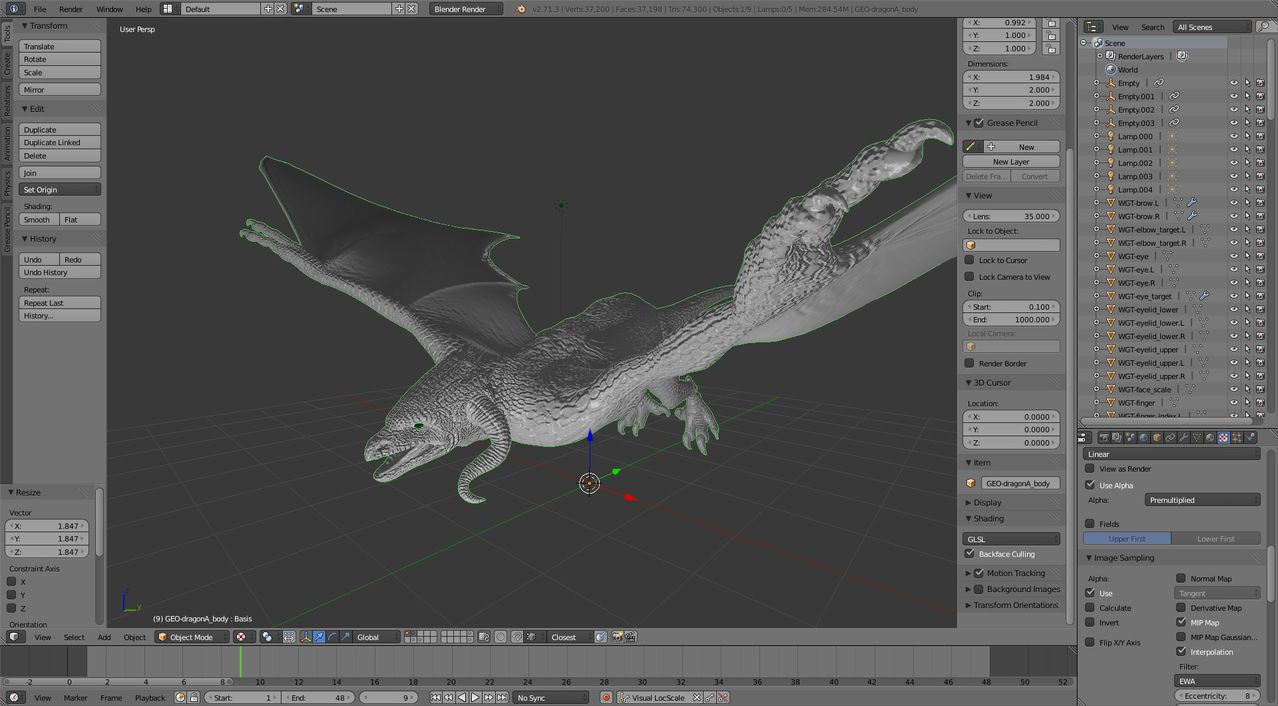 Voilà c'est tout pour cette semaine ces deux semaines :-)
En attendant dimanche...
----------------
Et les version liens cliquables:

Hi all,

Here are the notes for today's meeting in irc.freenode.net #blendercoders:

1) Projects for upcoming 2.72 release

- Reminder of the planning:
http://wiki.blender.org/index.php/Dev:Doc/Projects

- FBX: most of this is in master now, only animation import will be added still.

- Cycles render for freestyle - some discussion happened on what the use case or priority was. Ton Roosendaal asked Tamito Kajiyama to make sure on the NPR list that the targets he works on are sufficiently supported.

2) Google Summer of Code

- It's now the last weeks of GSoC, students should be able to present working code by now or very soon (as in, usable for artists). Consider to make videos!

- Fluid project still has link issues. No actual development results can be shown yet.

- NURBS project works on the tesselator still, with support for trim curves being worked on.

- GE bug fixing goes quite well (130 reports closed since beginning of GSoC). Ines Almeida wanted to know if the fixes could go from her branch to master. Meeting thinks so, provided the GE team agrees.

3) Other projects

- Bastien Montagne: making progress with custom split normals, now have working import + preview + render + store in .blend + editing with modifier code.

http://wiki.blender.org/index.php/User:Mont29/Foundation/Split_Vertex_Normals#Loop_normal_edition

- OpenSubdiv: work on textures and normal mapping progressing well.

Thanks,

-Ton-
-------

Hi all,

Here are the notes from today's meeting in irc.freenode.net #blendercoders.

1) Upcoming 2.72 release projects

- Bastien Montagne: the FBX todos for release are in master now\
http://wiki.blender.org/index.php/User:Mont29/Foundation/FBX_TODO_2014_07#Import:_Add_custom_properties\

- Check the extensive doc on FBX here, including Hamster samples (more examples coming).
http://wiki.blender.org/index.php/Extensions:2.6/Py/Scripts/Import-Export/Autodesk_FBX

- Tamito Kajiyama: Freestyle for Cycles is under review, Thomas Dinges accepted it from a UI perspective https://developer.blender.org/D632

- Antony Ryakiotakis: Pie menus still have a few minor additions and then we can do final review. Could get in git master this week.

- Aside of pies and freestyle, "BCon3" is active for all other projects per now.

2) Google Summer of Code

- Roman Pogribnyi solved the fluid linking issues. Work on getting Mantaflow to work now can finally proceed.

- Jason Wilkins has a patch that will go to 2.72 already:
https://developer.blender.org/D643

3) Other projects

- OpenSubdiv proceeds, texture support:
http://www.pasteall.org/pic/show.php?id=74525
Tangent space normal mappimg and generated texture coordinates still have to be done

- Dalai Felinto has a fullscreen patch
https://developer.blender.org/D678 
Organize Maximize/Fullscreen mess and add a new fullscreen mode with no UI. Review is positive, will make it for 2.72.

Thanks,

-Ton-