Bonjour à tous.
La RC approche, approche, approche...
Vous voulez savoir quand est-ce qu'elle sera disponible ? C'est par ici:
Hi everyone,

Here are the notes from today's meeting in irc.freenode.net, #blendercoders.

1) Blender 2.72 release

* It looks like we are ready for the Release Candidate soon, probably Tuesday or Wednesday.

* We need the splash screen for the RC still, Ton can you check on this please?

* The Bug tracker has 138 open reports atm, but no showstoppers. Developers: If a crucial issue still comes up, assign it to Blender Regressions project: https://developer.blender.org/project/view/38/ Also please check on your assigned reports.

* http://wiki.blender.org/index.php/Dev:Ref/Release_Notes/2.72 Release logs are almost ready, mainly the summary is missing. Help is welcome here. :)


2) Current projects

* Bastien mentions work on transfer data from one mesh to others (like vgroups, shapekeys, smooth faces, UVs, etc.).

* Antony is working on custom widget API, that will allow operators and code to add custom widgets to the interface.

* Levon Hudson is working on a mesh cache sequence modifier for e.g. realflow mesh and particles, objs.http://www.pasteall.org/pic/show.php?id=77457 Should be available as a patch in the coming weeks.

* Campbell works on editmesh select-similar face-regions, a tool to select face-islands with matching topology.

Thanks,
Thomas

En résumé:
2.71
Une RC (Release Candidate) arrivera certainement mardi ou mercredi !
Il manque tout de même une splash screen pour cette RC.
Il reste encore 138 bugs connus à corriger, mais aucun bug majeur.
Les notes de version (anglais) sont presque finalisées.
Projets courants
Bastien Montagne travaille sur le transfert de donnée d'un objet vers d'autres (ex: groupes de vertex, shapekeys, UV, faces lises)
Antony Ryokiotakis travaille sur une API pour concevoir ces propres widgets pour l'UI, en python.
Levon Hudson travaille sur un cache pour (par exemple) importer des objets et particules realflow: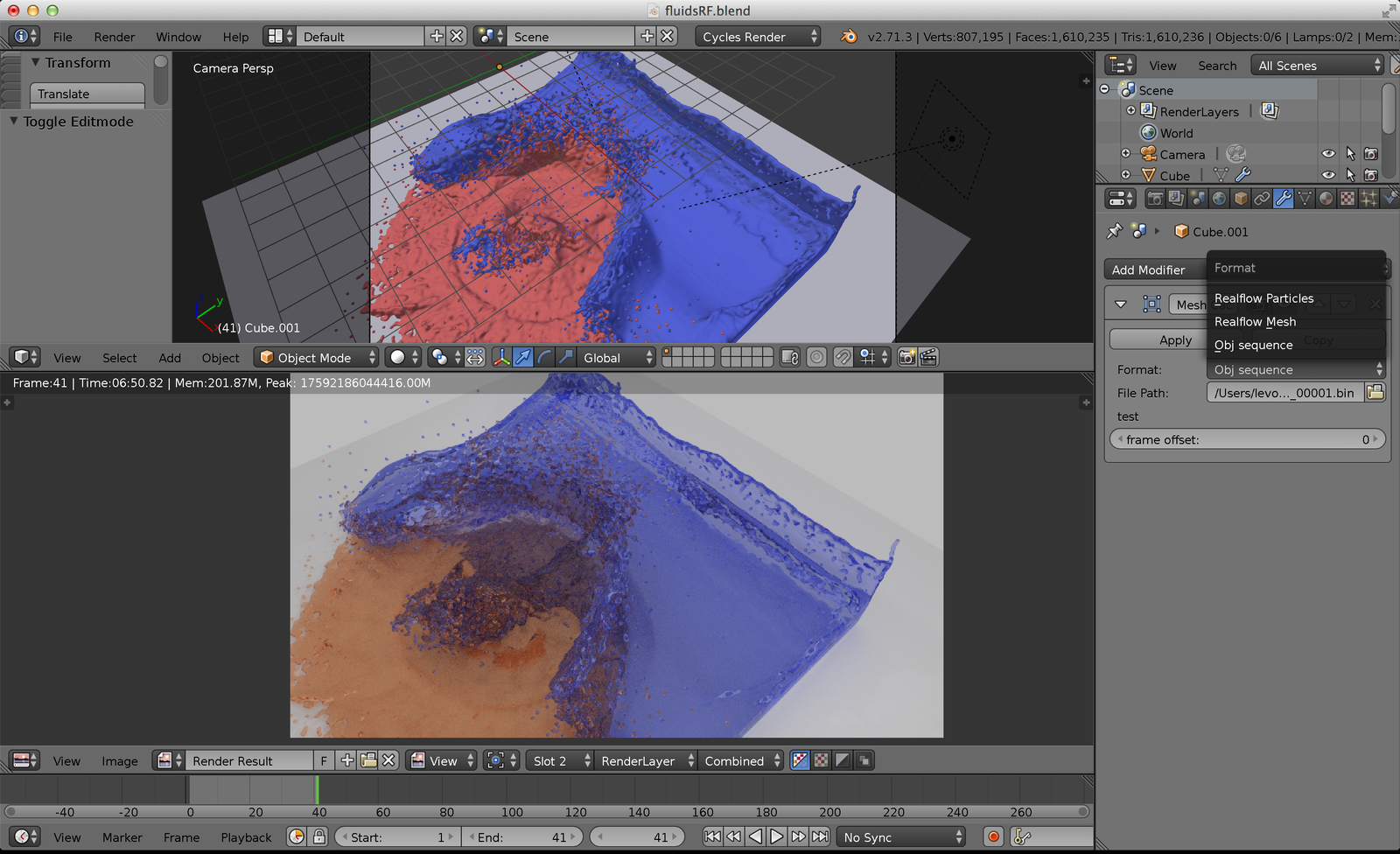 Campbell Barton travaille sur un outil (en mode édition) "select-similar > face-region", pour sélectionner des groupes de faces aux topologies proches.
C'est tout pour cette semaine !
-------------------
Et la version liens cliquables:

Hi everyone,

Here are the notes from today's meeting in irc.freenode.net, #blendercoders.

1) Blender 2.72 release

* It looks like we are ready for the Release Candidate soon, probably Tuesday or Wednesday.

* We need the splash screen for the RC still, Ton can you check on this please?

* The Bug tracker has 138 open reports atm, but no showstoppers. Developers: If a crucial issue still comes up, assign it to Blender Regressions project: https://developer.blender.org/project/view/38/ Also please check on your assigned reports.

* http://wiki.blender.org/index.php/Dev:Ref/Release_Notes/2.72 Release logs are almost ready, mainly the summary is missing. Help is welcome here. :)


2) Current projects

* Bastien mentions work on transfer data from one mesh to others (like vgroups, shapekeys, smooth faces, UVs, etc.).

* Antony is working on custom widget API, that will allow operators and code to add custom widgets to the interface.

* Levon Hudson is working on a mesh cache sequence modifier for e.g. realflow mesh and particles, objs.http://www.pasteall.org/pic/show.php?id=77457  Should be available as a patch in the coming weeks.

* Campbell works on editmesh select-similar face-regions, a tool to select face-islands with matching topology.

Thanks,
Thomas