Bonjour à tous !
Comme chaque dimanche, le rapport du week-end est de sortie:
Hi all,

Here are the notes from today's meeting in irc.freenode.net, #blendercoders.
Wintertime has settled on the Northern Hemisphere, time for meeting is on 1500 UTC again.

1) Targets for 2.73

- Release planning and targets were updated in this meeting, please check!
http://wiki.blender.org/index.php/Dev:Doc/Projects

- Bastien Montagne has a patch to compress shapekeys.
Needs reviews - mostly because it breaks reading new files with older versions.
https://developer.blender.org/D869

- Split normal editing is back on review list, could be target still

- Where is Opensubdiv now? We still prefer to wait for Pixar to release 3.0, which will make an integrated OpenSubdiv much more useful.

- Not on release targets, but still possible is to add some of the viewport OpenGL project?
We'll hear more from Antony Ryakiotakis tomorrow.

- Chinese and other Asian complex character input feature deserves serious review for 2.73:
https://developer.blender.org/D765

2) Other projects

- Blender Development Fund update:
http://www.blender.org/foundation/development-fund/

- The NPR ('cartoon render') discussion is ongoing - we all would love to see improvements here, but can we do it in smaller steps?
Join the mailing list:
http://lists.blender.org/mailman/listinfo/bf-blender-npr

- Reports on progress from developers in the Gooseberry project will be done separately.

Thanks,

-Ton-
En résumé:
2.73
Le planning a quelques peu changé: sortie des premières RC prévue mi-décembre.
La branche Split Normals est actuellement en court de relecture. Elle devrait bien être intégrée pour la 2.73.
OpenSubdiv n'est plus un objectif pour la 2.73, les développeurs attendent la sortie (prochaine) de la version 3.0 (bien meilleure ne serait-ce qu'au niveau perfs) pour l'intégrer.
Antony Ryakiotakis sera consulté demain pour savoir s'il est possible d'intégrer les premières améliorations de la vue 3D, comme le flou de mise au point (DoF) et SSAO (ambiant occlusion calculé en temps réel):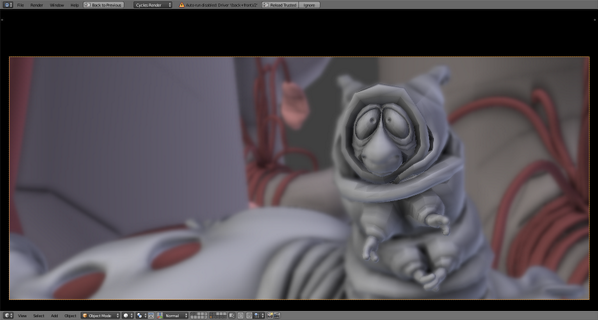 Bastien Montagne propose un patch pour compresser les shapekeys (formes clés). Il a besoin d'être examiné, notamment parce qu'il casse la compatibilité ascendante, ce nouveau format n'étant pas lisible avec d'ancienne versions.
Le code pour intégrer des caractères Asiatiques à besoin relecture pour la 2.73.
Autres
Grâce aux dons au fond de développement, Julian Severin Eisel est engagé deux jours/semaine jusqu'en Février 2015 pour travailler sur le débug, ainsi que Dalai Felinto pour terminer son travail sur l'édition stéréo.
Un rapport des développeurs pour Gooseberry sera publié séparément.
Des discussions ont lieu à propos de fonctionnalité de rendu NPR (non-photoréaliste), notamment suite à la conférence du projet BEER à la BlenderConf. Plus de détails sur la mailling list
Bonus: l'import depuis Realflow est fonctionnel :-)
C'est tout pour cette semaine !
----------------
Et la version liens cliquables:

Hi all,

Here are the notes from today's meeting in irc.freenode.net, #blendercoders.
Wintertime has settled on the Northern Hemisphere, time for meeting is on 1500 UTC again.

1) Targets for 2.73

- Release planning and targets were updated in this meeting, please check!
http://wiki.blender.org/index.php/Dev:Doc/Projects

- Bastien Montagne has a patch to compress shapekeys.
Needs reviews - mostly because it breaks reading new files with older versions.
https://developer.blender.org/D869

- Split normal editing is back on review list, could be target still

- Where is Opensubdiv now? We still prefer to wait for Pixar to release 3.0, which will make an integrated OpenSubdiv much more useful.

- Not on release targets, but still possible is to add some of the viewport OpenGL project?
We'll hear more from Antony Ryakiotakis tomorrow.

- Chinese and other Asian complex character input feature deserves serious review for 2.73:
https://developer.blender.org/D765

2) Other projects

- Blender Development Fund update:
  http://www.blender.org/foundation/development-fund/

- The NPR ('cartoon render') discussion is ongoing - we all would love to see improvements here, but can we do it in smaller steps?
Join the mailing list:
  http://lists.blender.org/mailman/listinfo/bf-blender-npr

- Reports on progress from developers in the Gooseberry project will be done separately.

Thanks,

-Ton-